Lingerie Lovers

Lingerie Lovers unite. Do you love, I mean really OBSESS about women's sexy lingerie??  It is one of the largest and fastest growing industries in the world, and for good reason!  Women like to buy lingerie for themselves, as a treat and to build confidence.  They  find it gives them a real boost to secretly know what intimate garments they have on underneath their clothing.
Lacy Satiny Bits
Those lacy satiny bits are called "foundation" garments after all.  A lot of women realize that men love the visual aspect of seeing them in the lingerie.  Its builds suspense, as if unwrapping a present to get to the goodies.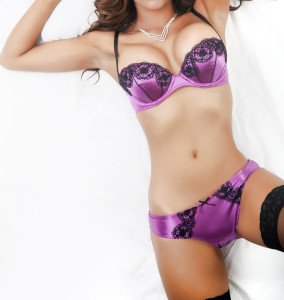 When you call the Taboo-Chat Chatline you will encounter hundreds of lovely ladies all hot and bothered.  Ready to describe their lingerie to you, right down to every last sexy detail.  She will paint a vivid picture for your imagination to feast on.  Come on now!  Join in on the fun and excitement by calling 1-509-876-5988.
Reveal Her Intimate Apparel
She may then walk you through how slowly she removes her clothes to reveal her intimate apparel.  And then proceed to tell you all about the smoothness of the silk as it brushes against her lush skin.  Just how easily it glides right off to expose herself completely.

Maybe you like to take things even further by telling her about how you secretly love to sniff panties!  Describe just what it does to you to inhale those special aromas.  Odors that have embedded in the very fabric, on a slow release that wafts out like seductive tendrils entrancing you –transporting you to a higher plane.
Aroused And Juiced Up
Helping you imagine the hot gorgeous woman that made these intimate secretions.  On Taboo-Chat you can continue your journey, get even more aroused and juiced up until you reach climax.  First time callers receive a Free Trial.  And there are unbelievably low, low cost membership packages to keep that fire smoldering and burning.  So go on!  Stoke those flames. baby.